GOOD LUCK to our U16AA & U19AA teams at the Canadian Ringette Championships!
---
---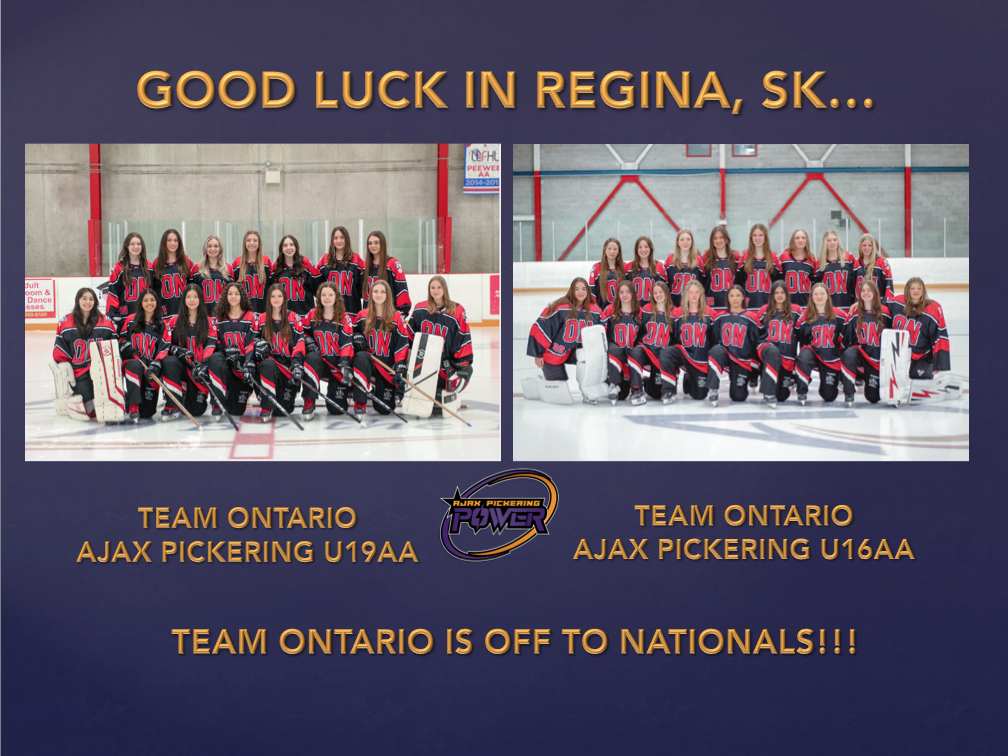 ---
GOOD LUCK to our U16AA and U19AA Provincial AA Championship Teams!!!
This Friday, our 32 dedicated athletes and coaches are heading to Regina, Saskatchewan to compete in the Canadian Ringette Championships in Regina, SK from April 9th - 15th!
All games will be live-streamed on the Ringette Canada YouTube channel starting Monday April 10th, and you can click here for the full schedule (both teams will represent the province and compete as Team Ontario).
U16AA Team Quote: "The Ajax Pickering U16AA Team is so excited to be heading to the CRCs as ON1 - Team Ontario. It feels like yesterday, the team was coming together for our first practice, dreaming of this opportunity. We're made up of 17 players from all over the Durham Region that have become teammates and friends both on and off the ice. It's everyone's first time attending the CRCs, but we've brought in a few players from the area that have been recently; and their memories and stories have really built our excitement for this amazing opportunity. We look forward to competing against all the top teams from across the country, a few of which we've met in regular-season tournaments. So, very excited to see them again. We are so proud to be competing as Team Ontario, Go, Team O!!!"
U19AA Team Quote: "The U19AA Ajax Pickering team is excited to represent the province as ON-1 Team Ontario at CRCs! We are a group of 15 athletes and five coaches from all over the Central Region who are playing together for the first time this season. This is all of the players' first CRCs and we are so excited for the experience of playing against the best athletes in the country, making new friends, and experiencing this new level of high-performance competition. Our team has experienced a large amount of growth from the beginning of the season to now. Attending CRCs was our team goal for the season. Through hard work, a great team culture, and a focus on skill development, we are so excited to see that our goal has been exceeded and our dreams have become a reality by getting to wear the Ontario jerseys on a national stage!"
The teams are incredibly grateful for all of the support they've received from APRA and the ringette community…
THANK YOU RINGETTE FANS!!!